Experience Serenity in the Himalayan Hills
At 2000 metres above sea level, experience nature's embrace with deodar trees, alpine meadows, and a refreshing cool climate.
View Room Details
Your Green Getaway with Endless Activities
Seegreen Cafe with a view in Mussoorie, is the place to try the best pizzas, Garwali cuisine, and delicious desserts.
View Room Details
Budget Homestay in Mussoorie
Our rooms, and cottages exude an earthy feel with charming decor and the soothing scent of pine.
View Room Details
Previous
Next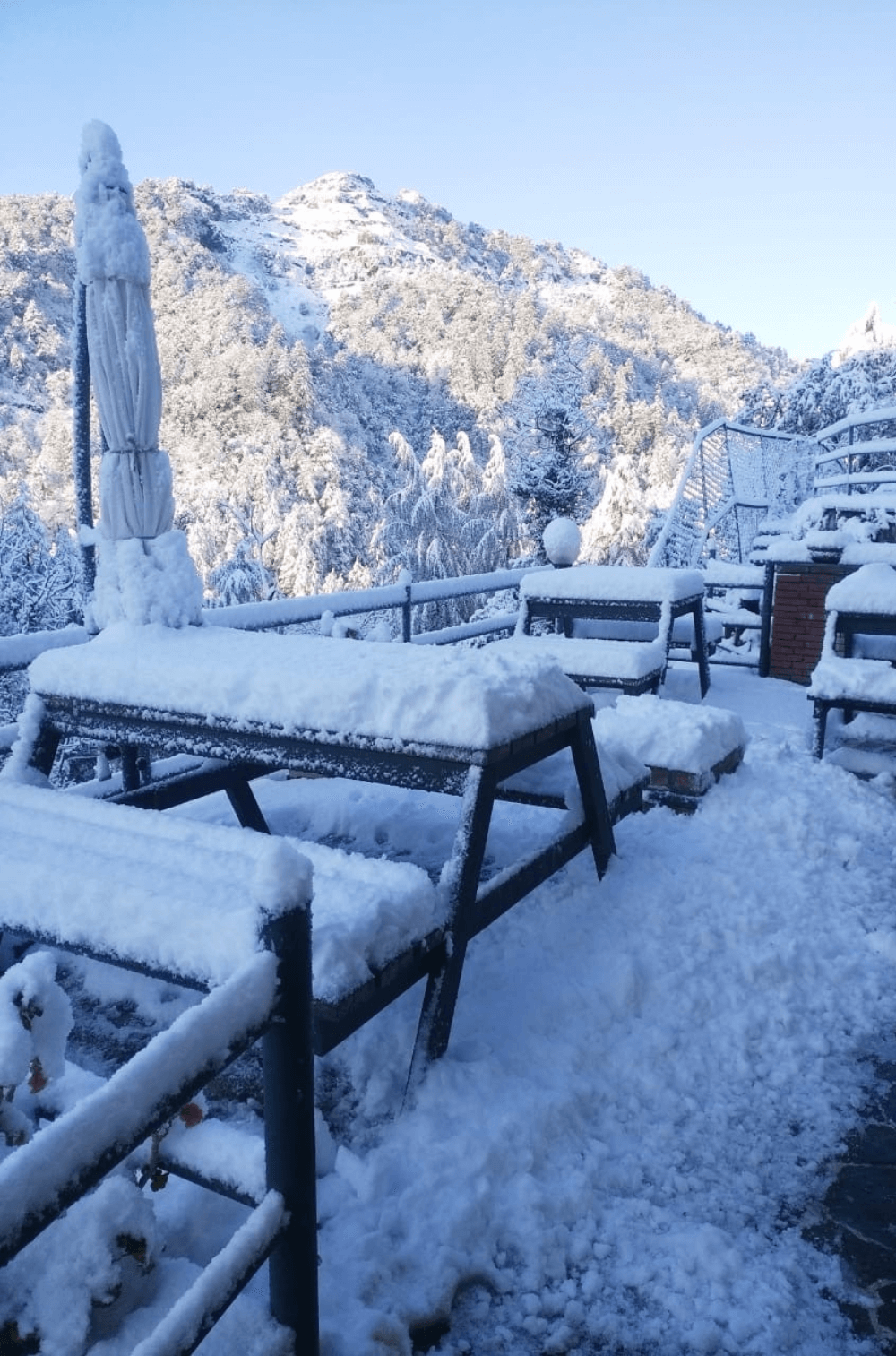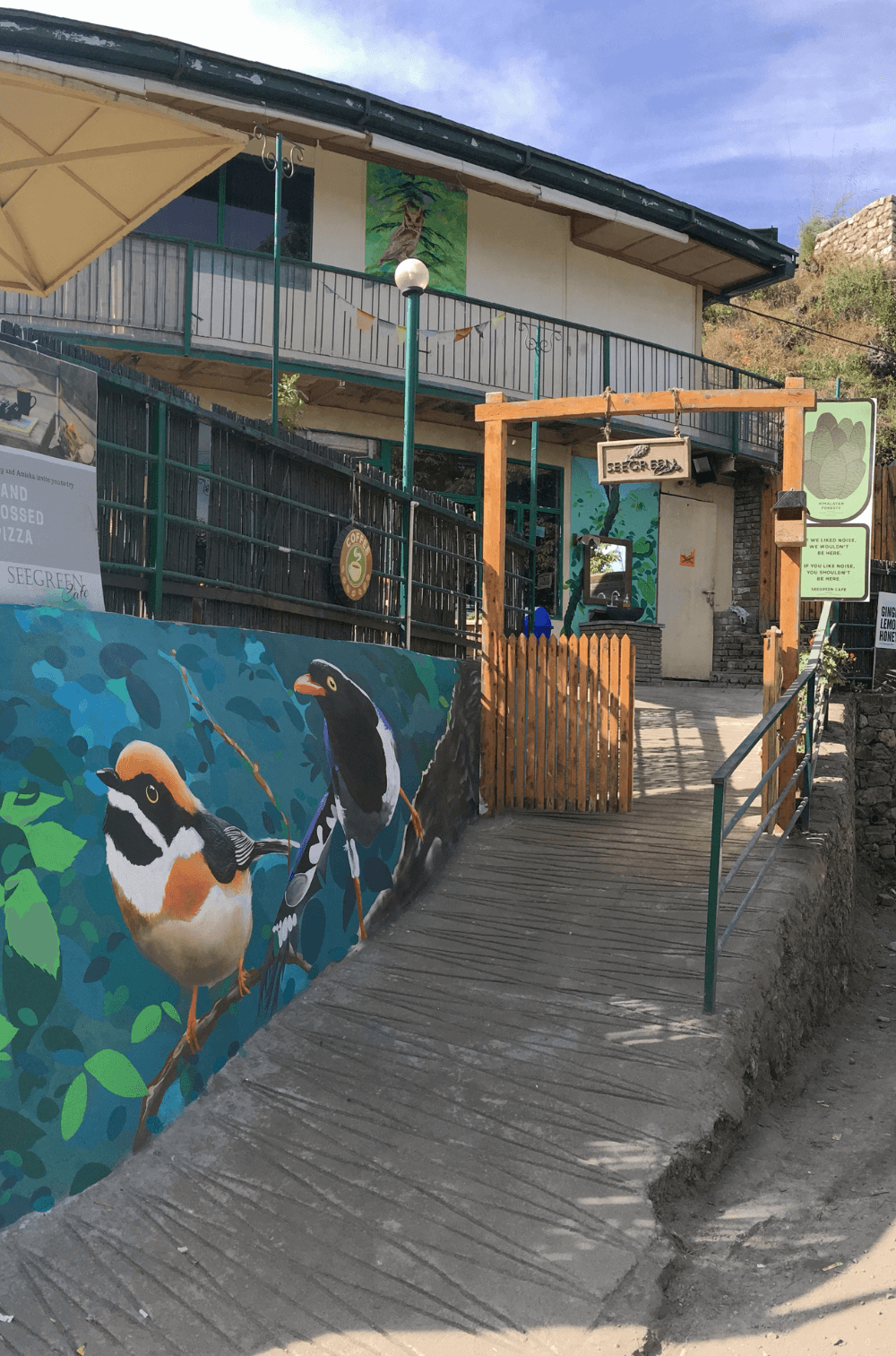 The Best Homestay Experience in Mussoorie
Our mutual love for nature, trekking, and the Himalayas saw us heed the call to the hills two decades ago. Over the years, we built our home in Hathipaon nestled among the pine and deodar trees. We have savoured the beauty of this region and had magical experiences with our children. From interacting and befriending the warm locals, adopting Bhotiya dogs, waking up to birdsong and being lulled to sleep to the tune of the cicadas, trekking fields, forests, mines, and trails, picnicking in meadows, spotting wild life, camping under the stars, learning about the traditional cuisine and how to cook using farm fresh produce, and building our own farm, to being environment-sensitive in everything we do.
View More
Experiences
At Seegreen you can strap on your boots or walking shoes and get outdoors, walk through hill trails and fields, and trek through forests to mountain peaks. There's something for everyone whether you want to curl up with a book overlooking the forest, or head out in search of experiences that make unforgettable memories.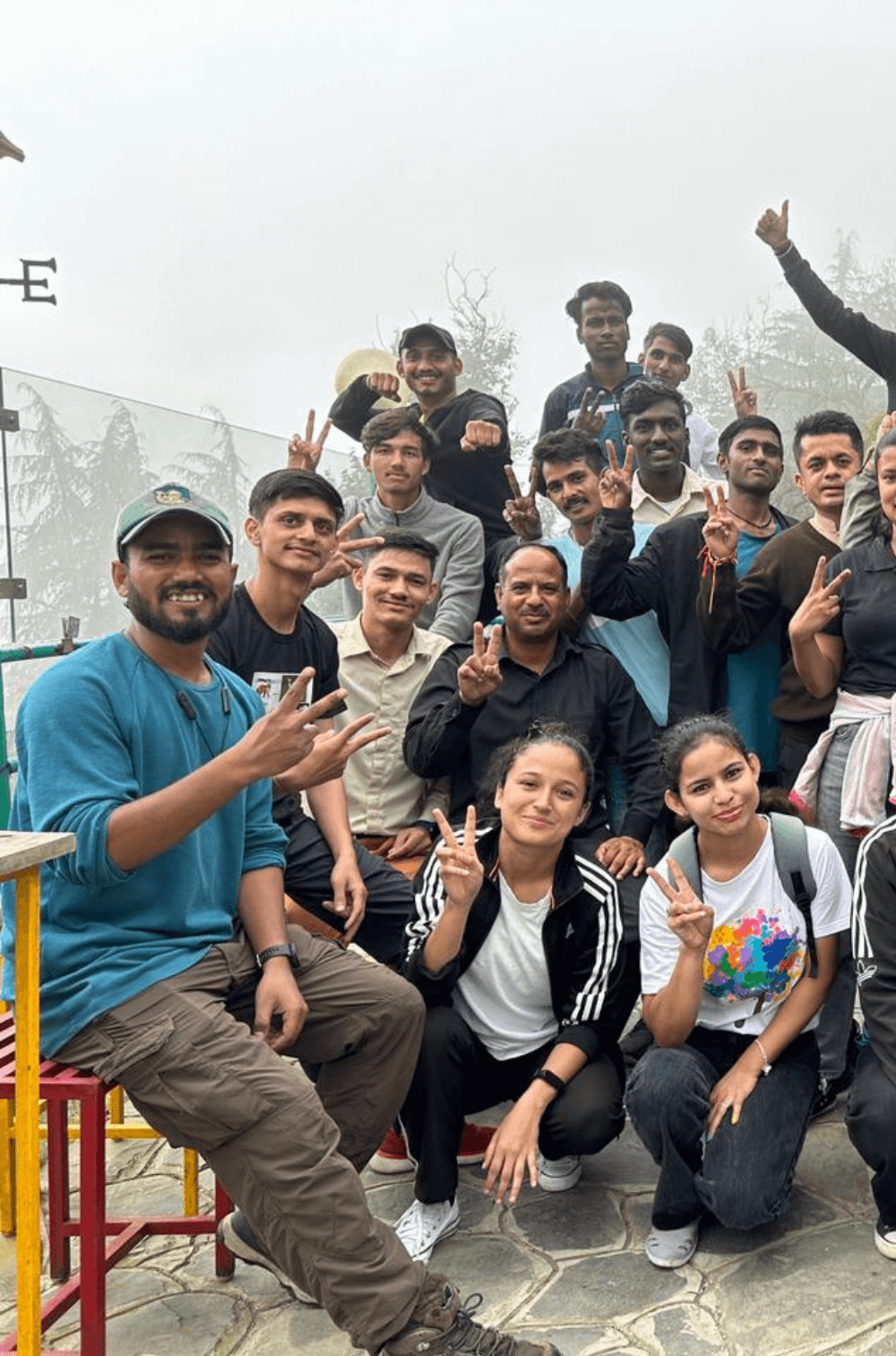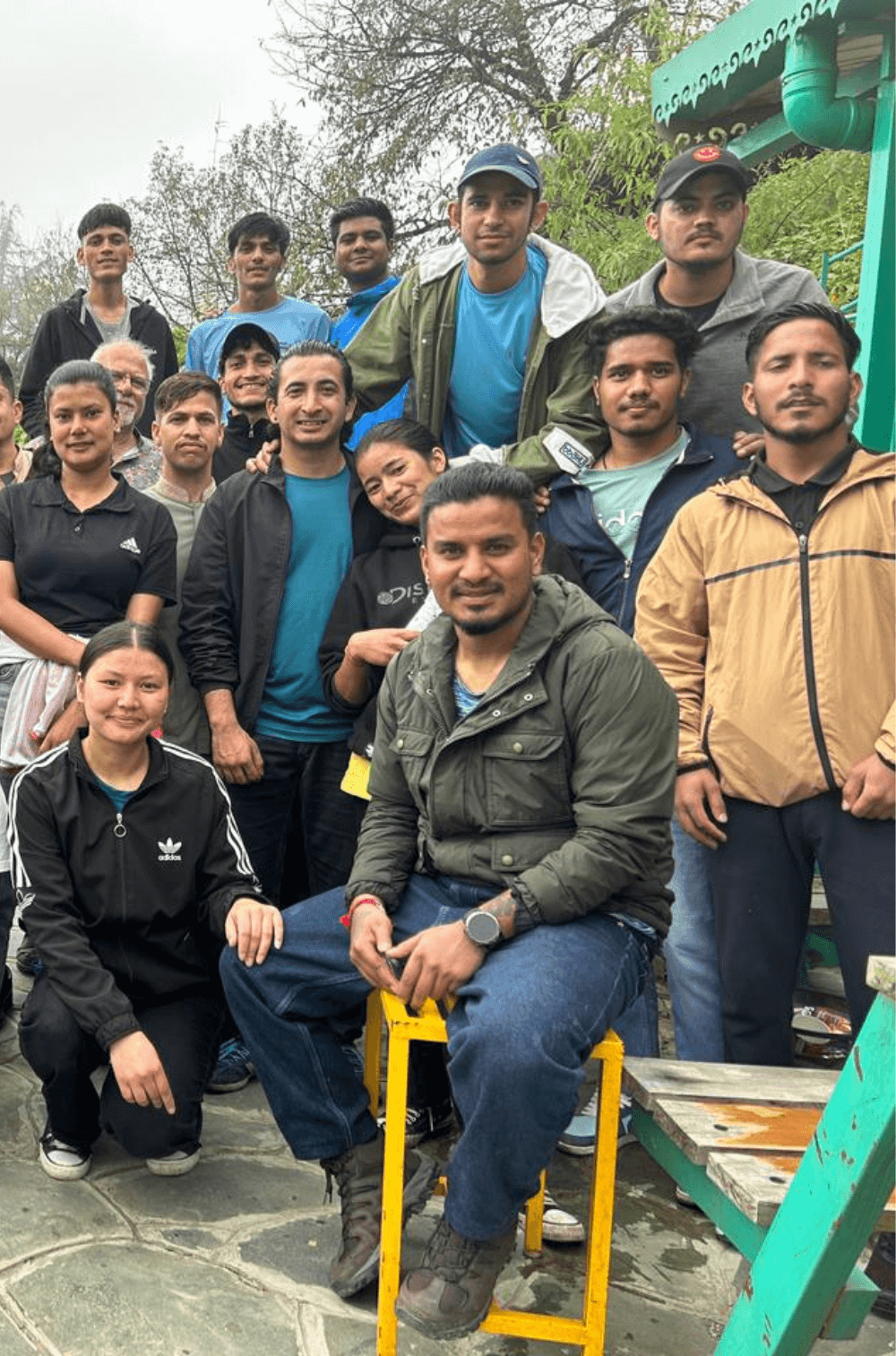 SEEGREEN'S GREEN HEART
We have a deep love for the hills and a strong commitment to preserving their delicate ecology. All our guests are requested to join us in being environmentally conscious. Please bring your own reusable water bottles and take advantage of our convenient refill options at the caf'e to avoid plastic bottles.
Please conserve water, minimize unnecessary towel and linen changes, dispose trash responsibly, and help us maintain a peaceful environment by avoiding loud music and noise pollution.
Our dedication to environmental causes is evident in our support for initiatives like 'Clean-Up Hathipaon Forests.' Our team has successfully collected litter, filling 80 garbage bags with trash left behind by tourists. Our ultimate goal is to work collectively towards a future where such clean up drives are unnecessary. We firmly believe that tourists should recognise their environmental responsibilities, not only for their own benefit but also to safeguard the environment for future generations.
Testimonials
I booked the entire space which had 3 rooms and had a wonderful time with my friends. The views from the balcony are magnificent and mesmerizing. Somender the caretaker took special care of all our details and we never felt we were at a commercial place.

Rohit
I traveled solo and this place was just perfect for me. Waking up to the song of birds, a pristine view from my window and the peaceful walks in the forest surrounding the place, was just what I was looking for. A special thanks to Sobhenderji and Gudveerji for making me feel safe and completely at home and my stay very comfortable. Loved their food too especially the veggie pasta... All the very best to Seegreen.

Darshan
The SeeGreen Lodge is fantastic property and just conveniently located at 10 minutes from the main Mussoorie Mall Road. The location is very peaceful and overlooks the beautiful lush and green mountains. The Cafe on the ground floor is brilliant and serves amazing food and beverages. The room which is located in the top of the cafe is cosy and comfortable. Somender is the care taker and very hospitable. Overall a fantastic budget stay in Mussoorie.

Shiksha
A bit far from main city point however very good location. Rooms were very neat and clean. Staff was very supportive. Food in the cafeteria is awesome specially north Indian dinner. Full value for money with super delicious complementary breakfast.

Ravi
If you need a blissful stay, this is the place to be. Peaceful and serene. Away from the city hustle. The place is well maintained and gives you a homely vibe. The view from the stay is breathtaking. The staff is very helpful and treats you with utmost respect. The food in the cafe downstairs is great too. Must recommend!

Aanchal
Exemplary Experience Visited Seagreen Lodges with family in the month of December. It was indeed a mesmerizing experience. Was amazed by the warm hospitality of of the care taker Somender Ji. The chef, Mr. Gudvir cooked us really nice food. The hygiene was taken care of. The calm and blissful locality is one of the reason why we zeroed in on this property. Had a great experience. Surely will visit again if possible.

Shreyash Tiwari
Serene experience We had a very peaceful stay amidst pine trees in the log hut. Peaceful atmosphere and relaxing stay. Loved playing with tama and Mowgli.. Yummy freshly cooked meals.. Enjoyed the trek to george everest peak..must go place for a Mussoorie trip.. will definitely recommend staying here rather than the busy touristy places

Teja V
Beautiful Log Hut!! Serene and beautiful are the words that come to mind when you think back to the time you spent in the Loghut. The Loghut sits perched on the most picturesque location overlooking the forest below. There weather added to the bliss with the clouds flowing in through windows. We had a great stay at the Loghut doing really nothing but having the most awesome time staring out of the window. A great place to relax and unwind and be a part of nature. A special mention about the hand tossed Pizzas served fresh in the cafe. Special shoutout to the host for getting the stay arranged at such a short notice.

Mickey R